Cleaning out stuff and don't need this, Like new works perfect!
4x5 viewing area
$50.00
Will also throw in 1 hoodmanusa pocket magnifier & one aluminum folding pocket magnifier.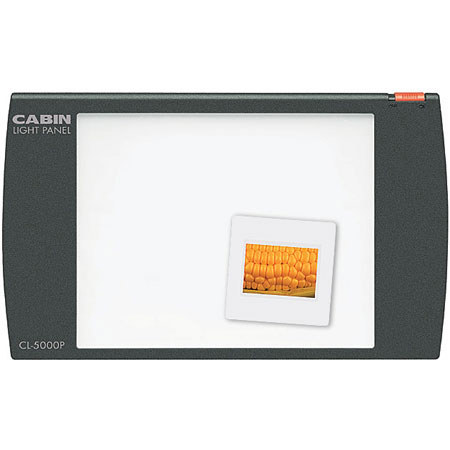 Taken From Adorama's Website:
Description
Only 1/2 inch thin and weighs less than 10 ounces, including batteries. It handles transparencies from 35mm to 4x5 inches with ease. Operates on AAA batteries, or AC with optional adapter.
Cabin Light Panels are designed to compliment your work. Accurate, bright and evenly illuminated, they show the true colors of your transparencies. Yet, they are so thin and elegant, they enhance your presentation and set you apart from the competition.
Unlike most other small light panels, Cabin products are precision engineered and manufactured to exacting standards. They are designed to be the finest products of their kind.
These superb presentation tools are light-weight and handy enough to carry around at all times. You can always be prepared to show your work and to show it well.
Daylight color temperature of 5000K is achieved using a unique, high-tech inverter-driven cold cathode fluorescent lamp (cold light). Illumination is absolutely flicker-free. And lamp life is 10,000 hours.
Cabin Light Panels set your presentation apart from the rest with a clean looking, high-tech tool that doesn't detract from your work. No more hunting for a light box in a cluttered office, or craning your neck to squint at the overhead lights.
Features
Elegant, Functional, Portable
Precision-made
Lite-weight and Portable
Precise color balance
Professional looking
Specifications
ColorTemp 5000K +270K, -250K
Luminance 1400 300cd/m2
Viewing Area 4x5"
Lamp Life 10,000 hours
Lamp 1x cold cathode tube
Power 4x1.5 AAA (2.5 hrs)
AC Adapter Optional
Dimensions 7-5/8 x 4-1/2 x 1/2"
Weight 0.6 lb.
Optional Accessories AC Adapter